World class entertainment
Over 30 Years of Fabulous Entertaining on Seven Continents
From London to Los Angeles, entertainer extraordinaire Perry Grant brings his highly popular show to Fort Lauderdale. Perry earned his stripes in show business, having started as a small child. He has performed for such famed notables as Princess Diana and Prince Charles, Malcolm & Steve Forbes, and the Guinness family. Perry has also worked with Hollywood legends such as Ann Miller, June Allyson, Debbie Reynolds and Jane Powell.
His engaging style, fun and exciting piano lounge and main headline stage shows, consist of great vocals with fantastic piano accompaniments, lots of comedy and plenty of bling. From Broadway to classic sing alongs, old standards and contemporary favorites, Perry has something for everyone. Perry has graced the stages of Royal Caribbean, Holland America Line, Raddison Cruises, Princess Cruises, Celebrity Cruise Lines and most recently Crystal Cruise Lines. Whether on the main stage or holding court in a lounge setting, Perry plays to standing room only crowds every night.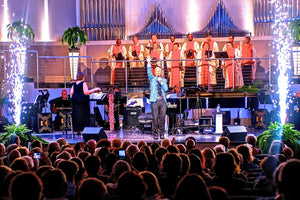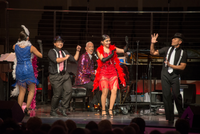 Official Perry Grant Merchandise
For many years, Perry Grant fans have been wanting to purchase merchandise before a cruise. Fans would make their own t-shirts, but there was never enough to go around. The wait is over and we have set up a user friendly website to collect your "Perry Gear" before your cruise. All Perry Grant merchandise is of exceptional quality, meeting Perry's high standards for superb durability, quality, and luxury. All official Perry Grant merchandise is proudly designed and printed in the U.S.A. All t-shirts are made from baby soft 100% premium long staple cotton. Imagine boarding your cruise ship in style sporting your official Perry Fan Club t-shirt, ready for the fun to come!
Official Perry Grant Website